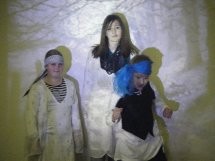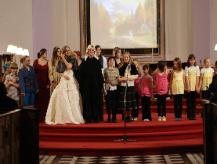 Below is a clip from the BBC film on which our story was based upon..
Complete BBC film available on DVD..Soundtrack available from
composers
site given in write up below.
A magical tale told in words, poetry and music
adapted from the classic Hans Christian Andersen
tale.

Music composed, adapted and arranged by
Paul K Joyce
for the Performing Arts Club of St Johns.
Check out Pauls website:-
pkjmusic.com

Snowqueen Success...

We had a fantastic week between 18th and 22nd
November as we embarked upon our production of
the Snow Queen.

Without a doubt this was a challenge..the music
being classical and choral with the only other group
performing this to date being the Royal
Philharmonia it left PACS something to aspire to..
well we might not have a 50 strong choir and
orchestra but the kids certainly produced something
very very special during that week. After every
performance the audiences had loved every minute
of it..and so did the kids!

This wouldn't have happened though hadn't it have
been for the composer Paul K Joyce entrusting us
with this music. To Paul we express our gratitude
and felt very privileged to be able to perform this
wonderful arrangement.

Our sincerest thanks do need to go to
both the Parish Church
and Gainsborough Methodist Church
for allowing us to perform there during the week,
a first time performance in these venues for just
about everyone in PACS which was quite an
experience for them. We should also like to thank
Chantelle for all her hard work on the make up
across the week.
Facebook Photo Gallery/Group link:

http://www.facebook.com/group.php?gid=49895405608&v=photos